MBBS in Philippines – A catastrophic experience and facts….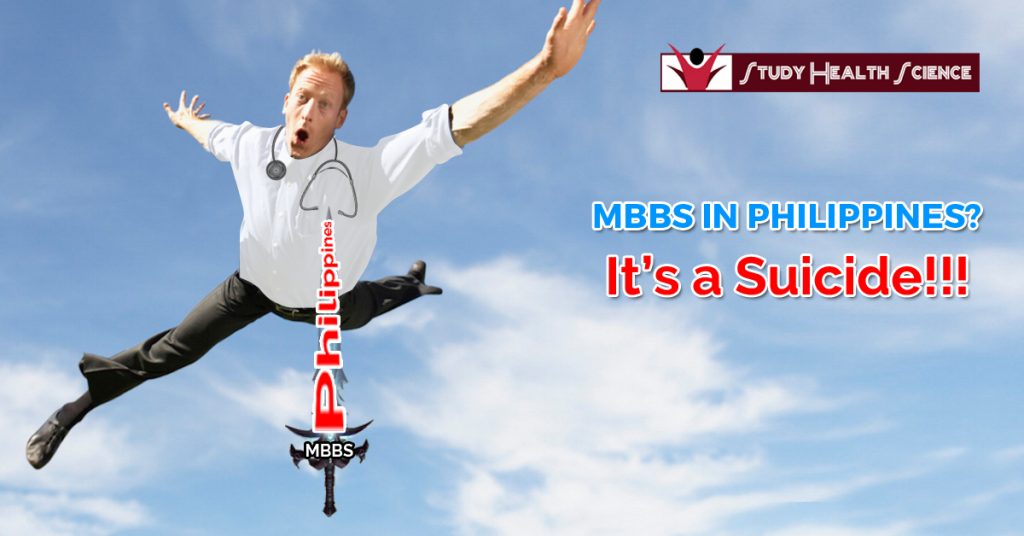 The Philippines Medical schools are graduate schools offering the Doctor of Medicine (M.D.) degree and The M.D. is a four-year degree program which qualifies the degree holder to take the licensure exam in the Philippines.
The National Medical Admission Test (NMAT) is a nationwide examination required to get admission in any medical school in the Philippines. It is comparatively similar to the MCAT, which is held in the United States.
MBBS (Actually MD) in Philippines is at your own risk:
We advise students not to choose Philippines just because of English language benefit!
Backward: It's a backward country with low caliber infrastructure.
Not into MBBS: You initially do not get into MBBS program but into BS program followed by N-MAT exam to be given in 16 months. In case you do not pass, you would have to return back. So admission to MBBS is not confirmed while your agent would have charged you fully.
Located in Rural: Out of the 17 universities approved by the Ministry of Education, Philippines (ultimately MCI approves the same), 14 of them are in small rural area with population below 10 lacs and hospital affiliations of around 500 beds!! Beware about these things.
Tourist VISA: The visa which you apply is actually tourist visa while when you reach there, the agent would collude with college and change into Study visa. (Most of the students go this way) These are very unclear ways to go abroad to study at the age of 18 years.
Fooled by Agents: The agent would fool you by saying that you would be prepared for USMLE-1. This is true that the format is similar to USMLE but the students succeeding till residency level is only 3%! So, think of coming back to India and do not dream to go to USA through Philippines… It's just a selling point for the agents.
Situated astride the typhoon belt, most of the islands experience annual torrential rains and thunderstorms
Screening Test: The MCI screening Test results from Philippines is abysmally low at 18% from 2012-2015.
Short program: The program is just a 4-year actual program which keeps the student in a constant stress and I believe it's pretty impossible to discuss the depth of the intricacies of medical studies in such a short span.
Not Known: No history of being a country known for its health care facilities.
Poor patient exposure: Most of colleges have tie ups with one or two hospitals only as they are private or autonomous. The students end up having very poor patient exposure.
Not Safe: Poor safety as crime rate is very high.
Pass Percentage: Most of universities has a mere 0% to 16% pass rate university wise, when they had International Student numbers ranging from 70 to 850 based on the facility.
Ring of Fire: Situated astride the typhoon belt, most of the islands experience annual torrential rains and thunderstorms from July to October and close to the equator makes the Philippines is prone to earthquakes and typhoons.
Poor safety due to very high crime rate. Snatchers and Burglars are always behind you even in the National Capital Region.
FMGE Pass Percentage in MCI Screening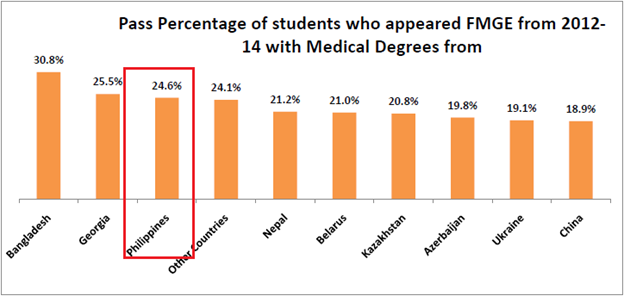 Notification by Philippines Embassy in India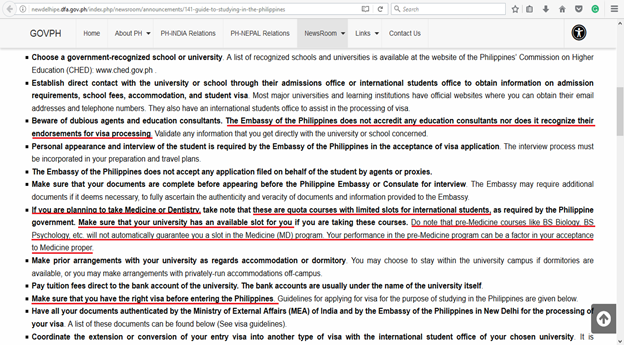 Notification by Indian Embassy in Philippines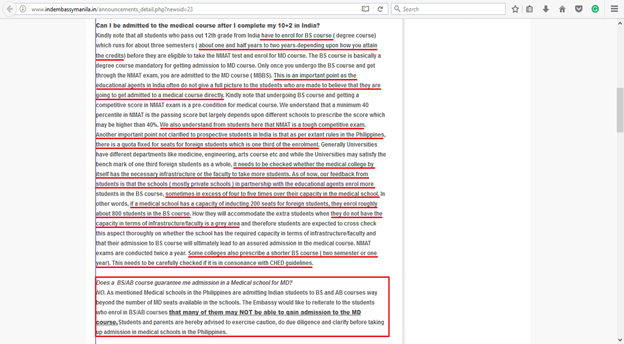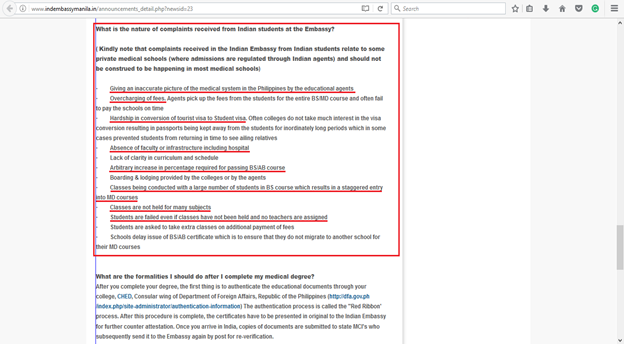 Reference Links: